A flexible office space with a sense of community.
Working from home can get lonely. You need people to bounce ideas off of, collaborate with, and partner with throughout your workday, especially if you work in a creative field. Join a flexible office space that features more than just desks and chairs – join us at Provident1898 and become a member of our diverse, creative, and driven community.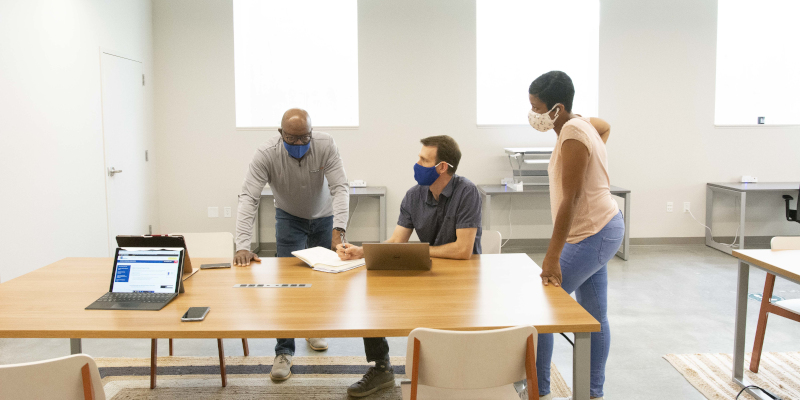 Our flexible office space is available for those from Research Triangle, North Carolina and has all the amenities you need to work productively on your timetable. Our floor plan features dedicated desks, hot desks, 20 dedicated suites, three conference rooms, phone booths, a café, and plenty of space to walk around and connect with other like-minded entrepreneurs.
We started our flexible office space to bring back the sense of community and drive to succeed present in this area's Black Wall Street nearly a century ago. We support diversity and inclusion and want all entrepreneurs to feel welcome at our coworking space. Join our flexible office, and you will receive more than a dedicated space to work – you will also join a community of professionals who want to help you succeed.
Come check out our coworking space in-person before you decide if our flexible office is the right fit for your goals. Schedule your tour today or give us a call if you have questions about our membership options, events, amenities, or anything else.
---
At Provident1898, we offer flexible office arrangements to entrepreneurs and artists in the Research Triangle area, including Durham, Raleigh, and Chapel Hill, North Carolina.