WANT TO HOST AN EVENT AT PROVIDENT1898? HERE'S WHAT YOU SHOULD KNOW:
Let's Partner On Your Next Event!
Our space features over 14,000 square feet of space for events—including large open areas, chairs, conference rooms, a lounge perfect for catering set up and plenty of space for your guests to stretch their legs. Host your next event with us!
Please note, as a diverse community building a more progressive and equitable workplace inspired by the legacy of Black Wall Street and NC Mutual, we strive to host events that align with our legacy and hope for the future.
At this time we require that all organizations interested in hosting an event in our space to complete the following survey before we'll discuss scheduling your event. This helps us collect the necessary information to understand how best to support you in your event production needs.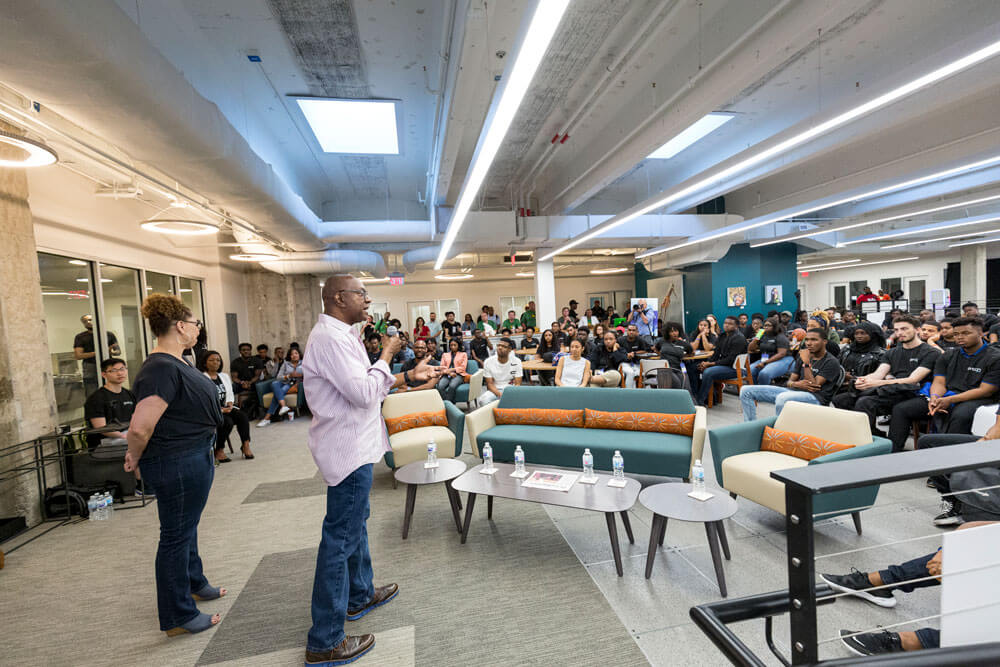 Before submitting the below form, please note the following requirement for hosting an event in our space:
Events must be confirmed with Provident1898 at least 3 weeks in advance. Confirmed meaning, we have completed any paperwork, agreements and conversation necessary to execute the event. Please note: submit this form does not mean your event is scheduled with our facility.
Event organizers will be required to staff their own event appropriately
Event organizers will be required to pay any security, facilities, event rental as well as any fees ensure from damages made to the space from Provident1898.
All movement of furniture or fixtures in the space requires pre-approval from a member of the Provident 1898 management team and all furniture or pictures must be returned to there original location during event strike.
HOST AN EVENT
If you agree to the terms above, you're right. This place would be perfect for your event. Speaker panels, launch parties, creative brainstorming—we're open to hosting it all.
PLEASE NOTE: If you wish to host a meeting in one of our meeting rooms, please complete this form here.