Our coworking space is much more than a place to work.
You join a coworking space because you want somewhere else to work besides your kitchen table or the coffee shop around the corner. You also join a coworking space to have a dedicated work area and to join a community of like-minded professionals you can network, collaborate, and talk about your ideas with.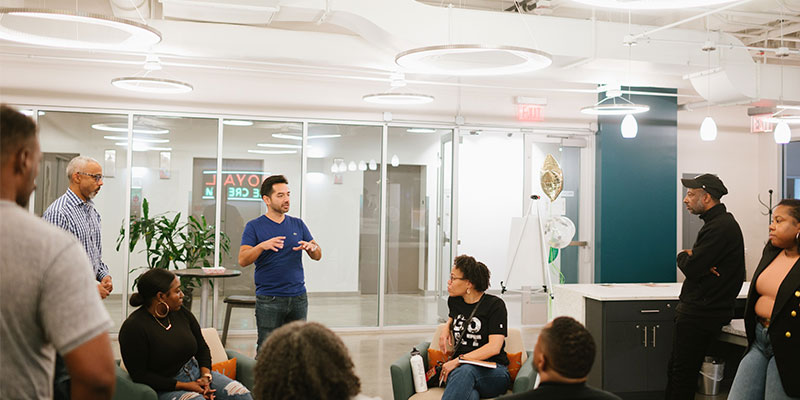 At Provident1898, our coworking space is where ideas become actions. We are a diverse community of entrepreneurs, artists, and innovators who are passionate about building a workspace that is more equitable and progressive. Our coworking space is located in the heart of Durham, North Carolina on the historic grounds of the NC Mutual Life Insurance building. Inspired by black business success, our tenets of inclusion and diversity inspire us and the entrepreneurs in our community to continually do their best.
Welcome to Provident1898
What makes our coworking space unique is that it is so much more than just a space with desk areas and high-speed internet. Designed by entrepreneurs and artists for entrepreneurs and artists, our coworking space features a contemporary design for multi-industry collaboration and productivity. For example, The Understudy is a shared studio space allotted for artists in all disciplines to perform, rehearse, and train.

Come and take a tour of our coworking space before you decide if it's right for you. We'll give you the complete tour and answer any questions about our community, amenities, and opportunities for collaboration.
---
At Provident1898, we offer coworking space to entrepreneurs and artists in the Research Triangle area, including Durham, Raleigh, and Chapel Hill, North Carolina.
Similar Services We Offer: