Seize your opportunity to work in a flexible, creative environment.
The modern workforce is vastly different from the workforce of the past, and one of the main changes is the workplace itself. More and more people are seizing the opportunity to strike out on their own and start their own businesses. Established companies are also offering more flexible work schedules and environments to meet the demands of modern employees. With these changes, a new kind of workspace has evolved: shared workspaces.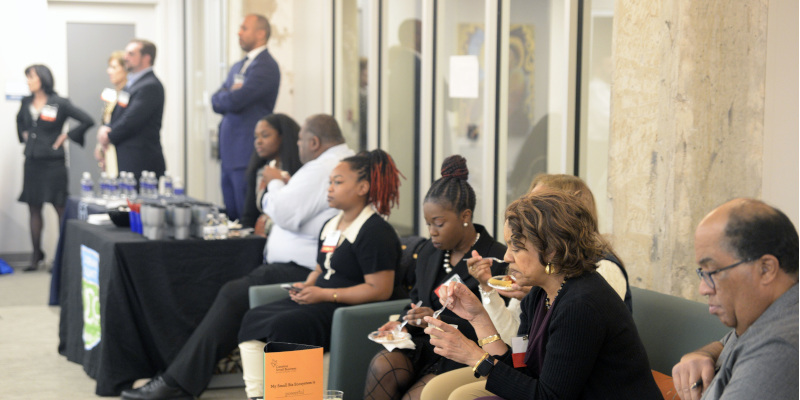 Shared workspaces are, essentially, an office or workplace environment where individuals from different companies and industries share equipment and workspaces in a collaborative, productivity-driven environment. Our shared workspace here at Provident1898 is a great option for those who are:
Self-Employed – When you're your own boss, it can be difficult to find a workspace that fits your needs. Whether it's just you or you're growing your team but not ready to buy or rent your own office building, there's a spot for you in our shared workspace.
Working on a Hybrid Schedule– Hybrid schedules offer a great balance of remote and on-site work opportunities, but many people struggle to adjust to working from home. Shared workspaces offer all the freedom of remote work while still providing a structured and productive environment.
Working Fully Remote– Remote work has become as commonplace as in-office work, and it's been a great fit for people who need more flexibility than a standard 9-5 job offers. However, many people don't have the space available to set up a work-from-home office, so a shared workspace provides the dedicated work area they need without compromising their flexibility.
If you're looking for a shared workspace here in the Durham, North Carolina area, we encourage you to book a tour of our 15,000-square-foot office space and see all we have to offer. Reach out today to schedule your tour or inquire about our membership options.
---
At Provident1898, our shared workspace is available to entrepreneurs and artists in the Research Triangle area, including Durham, Raleigh, and Chapel Hill, North Carolina.
Similar Services We Offer: